CRL INFORMATION & DIRECTIONS
The City Rail Link (underground rail) is Auckland's top transport priority and it means there is construction work along Albert Street, where Barclay Suites is located, while it is being built.
What is the CRL?
The City Rail Link (underground rail) is Auckland's top transport priority.
It will double the capacity of the metro rail network, which is vital for a city growing as much as ours is.
This is the first NZ public transport project to measure its carbon footprint and produce a carbon budget for the project.
Great to see other organisations trying to tread as gently as they can.
As with all good things, it will take time and during that time, there will be some noise and some new traffic routes for Albert St.
What does the CRL project mean for you?
The route to get to Barclay Suites will vary as sections of Albert St are closed for CRL work.
See our easy to use maps for how to get here if you are walking or driving
- You may want to book a quieter room option. The Premium Suites are located on the top floors and along with the best views, are also our quietest rooms.
- You can also ask when checking in if the team can upgrade you to a Premium Suite OR put you in a higher level or back of hotel location for the room type you have booked.
- You may also want to take advantage of our CRL care package – the Sleep Well Kit – which is available at reception.
- The kit contains an eye mask, ear plugs, soothing tea and some sleep tips - all the small things that help you relax and give a good night's sleep.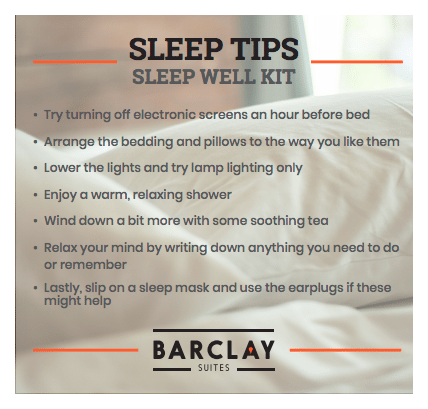 Is there anything else we can do?
We know the CRL can cause some disruption and hope we can help where we can.
If there is anything else we might be able to do, then please let us know.